2018 | 2017 | 2016 | 2015 | 2014 | 2013 | 2012 | 2011 |
Rick Young, MovieMachine.TV, and the Datavideo SE-2000
My work is very varied but whether I'm on a corporate production or doing media training, there's often a requirement for mixing live sources. I originally opted for the SE-2000 a production switcher because of its ability to take a live DVI feed from the laptop and output the signal to an SDI monitor, recorder or projector. The image quality was excellent and surpassed any other converter I had tried so I was instantly won over.
Having spent twelve years as a vision mixer in the UK and Australia and as a TV production director for ITN, BBC and Sky, I was keen to use the switcher to mix live events. I was brought up on big 3 M/E desks with 32 inputs so the traditional layout of the Datavideo panel was very familiar to me. With the SE-2000, I can flick very fast between a preview of all my video and graphics sources and select any as a preview or live programme very easily indeed.
A typical live set up involves multiple HD camcorders and a DVI computer graphics feed. In this scenario, the multi-viewer output is a big deal to me. Having all views on a single lightweight monitor is a tremendous bonus for a production company like mine. I'm used to a rack of broadcast screens, each displaying a different source, the preview, and live output. This may be fine in the TV world, but is impractical (and very expensive) in today's fast paced and highly mobile world. The SE-2000 multi-viewer is a great solution. It's a portable TV studio and that's no exaggeration at all.
For me, pure image quality and totally reliable operation are of critical performance. Whenever I'm recording a computer-based training film or shooting a multicam event, the SE-2000 is rock solid and 100% reliable. Every time I use the switcher, it's simply spot on. You just don't get the same stability in computer environments. System down-time or slow-down is something you can't risk when you're live: it's got to plug in and work. Frankly for the price and with the results I'm getting, I'm very happy with the SE-2000.
RackBuilder-App
Design, develop and configure
the perfect solution for your needs.
Download the
Product Guide 2017
---
Download the
Virtual Studio Solutions
brochure.
---
Download the
Remote Production Solutions
brochure.
---
Download the
DVP-100 Cut Sheet
Latest Movie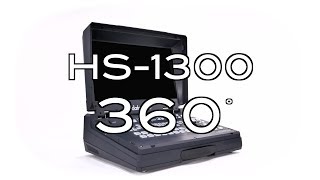 All Videos